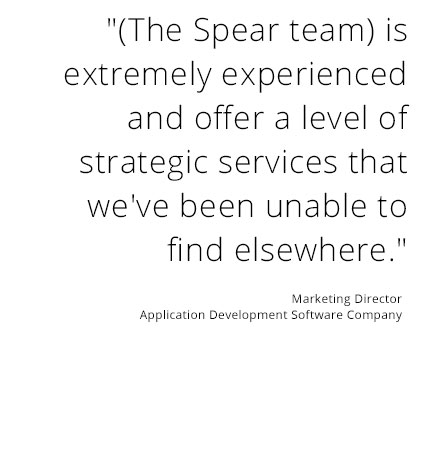 Spear Marketing Group is a full-service demand generation agency that helps B2B technology companies generate, nurture, and convert leads to revenue.
Launched in 2009, Spear has quickly grown to be one of the leading agencies in the technology space, serving a range of clients from start-ups to industry giants. Along the way, we've built a team of strategists, creatives, and technicians who are experts at what they do and also have fun doing it.
Our backgrounds comprise a diverse mix of both client-side and agency experience in demand generation, email marketing, marketing communications, digital marketing, direct marketing, and more. What binds us together is a commitment to making a difference for our clients. We want marketing to do more than just look good; we want it to generate results.
When you work with Spear you gain more than just a tactical resource. You gain a partner, a team of people who genuinely want your campaigns to work, whether your objective is leads, trials, registrations, downloads, subscribers, or repeat customers.
Our unique, holistic approach to demand generation blends strategic expertise, creative flair, and a deep understanding of marketing technology to achieve measurable results across every stage of the lead lifecycle: lead generation, lead nurturing, and customer marketing. By measuring everything we do, by understanding your business, and by knowing what works, we generate a better return on your marketing investment.
We call it Marketing with a Point.